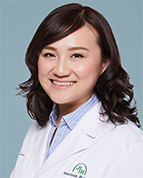 Anna LI, MD
Department:

Jiahui International Cancer Center
Medical Oncology

Location:

Jiahui International Hospital

Languages:

普通话,  English
Dr. Anna Li is an oncologist of Jiahui International Cancer Center. She earned her bachelor degree of Clinical Medicine from Shanghai Jiaotong University School of Medicine and master degree in Gastrointestinal Cancer from Fudan University Shanghai Medical College. She was granted the outstanding graduate of Fudan University. She completed both standardized training programs for residents and oncologists at Shanghai Zhongshan Hospital.
Before joining Jiahui Health, Dr. Li served as an attending physician in the Department of Medical Oncology, Shanghai Zhongshan Hospital of Fudan University, and meanwhile has accumulated abundant experiences of working and studying at Shanghai Ruijin Hospital. She is fully certified in medical oncology. Dr. Li has an expertise in solid tumors, especially gastrointestinal cancers, and is also good at cancer nutrition therapy and pain management. Dr. Li has been involved as a subinvestigator in a few global multi-center clinical trials for anti-cancer drugs, and published several SCI and some Chinese papers.
Dr. Li is a current member of Chinese Society of Clinical Oncology (CSCO), and a member of China Anti-Cancer Association (CACA) in the following societies: Stomach Cancer, Colorectal Cancer, Anesthesia, Cancer Pain Management, Chemotherapy, Rehabilitation and Palliative Care. She is also a member of Shanghai Anti-Cancer Association; a lecturer of Medical English Training Program held by Shanghai Medical Health Development Foundation.