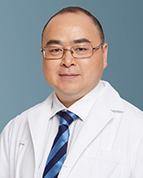 Dong CHEN, MD, PhD
Department:

Orthopaedics and Sports Medicine
Orthopedics
Surgery

Location:

Jiahui International Hospital
Jiahui Health (Jing'an)

Languages:

普通话,  English
Dr. Dong CHEN is an orthopaedic surgeon of Jiahui Health. He has practiced orthopaedic surgery since graduating from medical school with a Bachelor of Medicine in 1996. He was awarded PhD in surgery from the University of New South Wales in Australia in 2010. He was an associate chief surgeon before moving to Australia in 2007. Dr. Chen undertook orthopaedic registrar training for five years under the Royal Australasian College of Surgeons (RACS). During that time, his results in orthopaedic in-training examinations (OITE) were consecutively the b est in Victoria in 2015 and in Australia in 2016. Dr. Chen obtained an eighteen-month Australian Orthopaedic Association (AOA) Accredited Fellowship in shoulder and elbow surgery, under Dr. Jerome Goldberg, then president of the Australian Society of Shoulder and Elbow Surgery, as well as a one year AOA Accredited Fellowship in hip and knee surgery under Dr. Dugal James. Before joining Jiahui Health, Dr. Chen was a consultant (staff specialist) in orthopaedic surgery in Tamworth Base Hospital in Australia.
Dr. Chen has a broad interest in orthopaedic surgery, covering major areas in the field and utilizing both arthroscopic and open surgical techniques, after years of extensive training and consistent pursuit of excellence. His main practices include but are not limited to the following conditions:
Shoulder: Rotator cuff repair, shoulder dislocation, shoulder instability, acromial impingement, total and reverse shoulder replacement (TSR), clavicle fractures and shoulder fractures.
Elbow: Loose bodies, osteoarthritis and bone spurs, distal biceps rupture, tennis elbow, cubital tunnel syndrome, elbow stiffness release, elbow fractures and dislocations.

Knee: Meniscal tear, locked knee, ACL reconstruction, osteoarthritis, total knee replacement (TKR), high tibial osteotomy and supracondylar femoral osteotomy.

Hip: Total hip replacement (THR), proximal hamstring tear, trochanteric bursitis, and labral tear
Hand and Wrist: Carpal tunnel syndrome, trigger finger, ganglions, thumb MCP joint ulnar collateral ligament reconstruction, arthritis of the base of the thumb and distal radius fracture.
Foot and Ankle: Bunions, hallux rigidus (MTP joint arthritis), ankle ligament reconstruction (Broström-Gould), Achilles tendon rupture, ankle arthritis, flatfoot (posterior tibialis dysfunction), Lisfranc injury, plantar fasciitis and foot and ankle fractures.
Dr. Chen has experience of operating various phases of clinical trials. He also published in many international journals and presented in global conferences. Additionally, he is a reviewer of Biomaterials, a well-known international academic journal with an impact factor of 8.4.