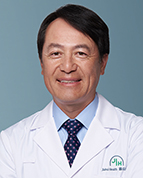 Alexander LIN, MD
Department:

Minimally Invasive Gynecologic Surgery
Fertility-preserving Hysteroscopy/Laparoscopy Surgery

Location:

Jiahui International Hospital (Shanghai)

Languages:

普通话,  English
Dr. Alexander LIN serves as Chief of the Obstetrics and Gynecology Department and Director of Women's Health of Jiahui Health. Dr. Lin received his Bachelor of Science and Medical Doctorate degrees from the University of Michigan. He finished his residency training in Obstetrics and Gynecology at Northwestern Memorial Hospital and the Northwestern University Feinberg School of Medicine in Chicago. Prior to joining Jiahui, Dr. Lin has been in practice at Northwestern Memorial Hospital since 1994 and was most recently the Medical Director of the Northwestern Medicine Streeterville General OB/GYN Practice and Director of Benign Gyn Robotic Surgery. Dr. Lin brings 24 years of experience in caring for pregnant women and managing their obstetrical care and birthing experience. He specializes in minimally invasive gynecologic surgery, including robotic surgery, and treatment of uterine fibroids, endometriosis, ovarian cysts, abnormal uterine bleeding, and cervical dysplasia.
Dr. Lin's research interests include techniques for cervical ripening, management of the second stage of labor, and minimally invasive treatment of uterine fibroids.
Dr. Lin has served as a Board Examiner for the American Board of Obstetrics and Gynecology for the past 10 years.


License no.:沪卫外医批字(2021)第182号