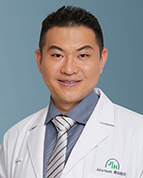 Eric HSU, MD
Department:

Orthopaedics and Sports Medicine
Rehabilitation Department

Rehabilitation
Bariatric Clinic

Location:

Jiahui International Hospital

Languages:

普通话,  English,  閩南語
Dr. Eric HSU is a rehabilitation specialist in Jiahui Health. He earned his bachelor degree of rehabilitation at Kaosiung Medical University. After graduation he served as a rehabilitation specialist at Kaohsiung Veterans General Hospital and Antai Community Hospital. Dr. Hsu received his postgraduate education in the Department of Rehabilitation of Peking University Third Hospital and completed his master degree of Clinical Medicine in 2012. During this time, he was supervised by Dr. Mouwang Zhu, a famous Chinese rehabilitation specialist in Orthopeadics and Sports Medicine (Dr. Zhu is the vice chair of Chinese Association of Rehabilitation Medicine and the successor chair of the Society of Rehabilitation Specialist of Chinese Medical Doctor Association.). Later he successively worked at BENQ Medical Center in Nanjing and Landseed Hospital in Shanghai. Besides clinical work, he was actively engaged in clinical administration including management of outpatient and infection control and quality control of medical records.
Dr. Hsu is committed to building a harmonious relationship between doctor and patient. He advocates the proverb that merry heart doeth good like a medicine, and considers rehabilitation is not a simple treatment approach, but needs doctors to closely collaborate with patients and meanwhile pay attention to patient's psychological needs.
Dr. Hsu specializes in the following three areas in rehabilitation: pediatric rehabilitation, neurological rehabilitation, and orthopaedic and sports injury rehabilitation, especially good at the third subspecialty. The scope of rehabilitation service provided by Dr. Hsu is listed below.
• Spine: cervical spondylosis, back and lower back pain, spinal disc herniation, ischialgia, etc.;
• Upper limb: fasciitis, periarthritis of shoulder, peritendinitis, tennis elbow, golfer's elbow, constrictive tenosynovitis, joint sprain of shoulder, elbow and wrist, soft tissue injury, etc.;
• Lower limb: osteoarthritis, osteoarthritis, rheumatoid arthritis, muscle ligament injury, achilles tendinitis, plantar fascia, ankle sprain, knee injury, etc.;
• Nerve: stroke rehabilitation, spinal cord injury, neuritis and neuralgia, facial nerve paralysis and herpes zoster;
• Orthopaedic and sports injury: rehabilitation after rotator cuff surgery, rehabilitation after cruciate ligaments surgery, rehabilitation after meniscus surgery and rehabilitation after all kinds of bone fracture surgery.