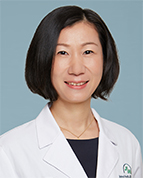 Lily ZHOU, MD, PhD
Department:

Jiahui International Cancer Center
Medical Oncology
Hematology

Medical Oncology (Hematology)
Cancer Center (Follow-up Consultation Only)

Location:

Jiahui International Hospital (Shanghai)

Languages:

普通话,  English
Dr. Lily ZHOU serves as Section Head of Hematology at Jiahui International Cancer Center. Dr. Zhou graduated from the Second Military Medical University in 2004 with Master of Medicine, and earned her PhD in the affiliated Shanghai Changzheng Hospital in 2007. During 2012 and 2014, she completed her post-doctoral work in the Hematology/Oncology Department of University of California, San Francisco (UCSF), US. Prior to joining Jiahui, Dr. Zhou served as an associate professor oncologist with an expertise in hematology at Shanghai Changzheng Hospital. Being a hematologist for more than ten years, and served as associate professor and vice-chief physician in hematology, she specializes in the diagnosis and treatment of myeloma, lymphoma and leukemia, as well as benign hematological disorders such as anemia, thrombocytopenia, coagulation dysfunction, etc.

Dr. Zhou has successively presided over the projects funded by the Translational Medicine of Myeloma at UCSF, National Natural Science Foundation, Shanghai Thousand Talents program and the Myeloma Program of Chinese Medical Doctor Association. She has participated in several international multi-site clinical trials, as well as some national and civic trials. As a first author, she has published more than ten SCI papers.

Dr. Zhou is a committee member of Hematology Society of shanghai medical association, translational hematology committee of the Shanghai medical association, and youth committee member of the hematology rehabilitation committee of the Chinese medical association, also a member of the American cancer association (ASCO), and a committee member of the experimental diagnostics and transplantation immunology group of the hematology branch of the Chinese medical association.