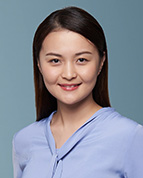 Felice SOO, PsyD
Department:

Psychological counseling
Bariatric Clinic

Location:

Languages:

普通话,  English
Dr. Felice SOO is a mental health counselor at Jiahui Health. Dr. Soo obtained her Master and Doctor of Psychology degrees in Clinical Psychology from the California School of Professional Psychology (CSPP) at Alliant International University (AIU). She received her license of clinical psychologist from New Zealand Psychologist Board and a practitioner certificate from Association of Psychotherapist and Counsellors Singapore (APACS). She is also a registered member of American Psychological Association (APA), and registered clinical psychologist of Hong Kong Association of Doctors in Clinical Psychology (HKADCP).

Dr. Soo has a diverse international background and more than 7 years of clinical experiences working with diverse population. She provides EAP services to corporate clients both offsite and onsite, and conducting training and workshops for employees and management team. Her expertise is in areas of grief, depression-anxiety disorders, trauma and stress related disorders, insomnia, obsessive-compulsive related disorders, LGBT related issues, and interpersonal issue. Her primary approach is Cognitive-Behavioral Therapy (CBT) and she also utilizes a collaborative client-centered approach in her works such as solution-focused therapy, mindfulness-based approach and positive psychology to best meet the needs of clients.

Dr. Soo has extensive experience working with LGBT individuals for their interpersonal issues and conducted workshop and group intervention for transgender individuals to better adjust to their daily life and new gender identity.

The counseling service is provided by Jiahui mental health counselors for self-pay patients only. Medical insurance and self-pay insurance claim not applicable. If you'd like to use your mental health insurance benefits, please make an appointment with our physicians of the Psychiatry Department.