Jiahui International Hospital is the first foreign-funded tertiary general hospital in China. Located in downtown Shanghai's Xuhui District, the hospital opened to the public in October 2017. Since then, it has continued to broaden its provision of general and specialized healthcare services, including 24/7 emergency care, obstetrics and gynecology, family medicine, surgery, pediatrics, dentistry, and a cancer center fully compliant with international standards, among others. In addition, Jiahui International Hospital is the first international hospital in Shanghai with a fully licensed rabies prevention clinic.
Jiahui International Hospital has co-branding with its strategic collaborator, Massachusetts General Hospital. This relationship is the product of years of planning and consultation between the two institutes and is Mass General's first collaboration in China. Through this unique strategic cooperation, Jiahui International Hospital has built the largest international team of experienced, full-time physicians in Shanghai, and brought leading global healthcare resources and China's most advanced medical expertise to patients. Mass General continues to work with Jiahui International Hospital across the spectrum of its multidisciplinary services, most notably in its support of Jiahui International Cancer Center (JICC). The two institutes frequently hold joint cancer symposiums, sharing expertise, best practices, and cutting-edge research in order to bring a truly global standard of cancer care to China. With the support of Mass General, Jiahui International Hospital has launched the Jiahui Immuno-Oncology Center of Excellence, making it the first international hospital in China to establish an immuno-oncology treatment center.
Jiahui International Hospital is fully compliant with Facility Guidelines Institute (FGI) guidelines and Joint Commission International (JCI) standards. The hospital's design and construction is LEED Gold-certified, the globally recongized standard for achievement in environmental sustainability. From overall planning to daily operations, Jiahui International Hospital is committed to providing a patient-centered experience based on care, quality, and impact.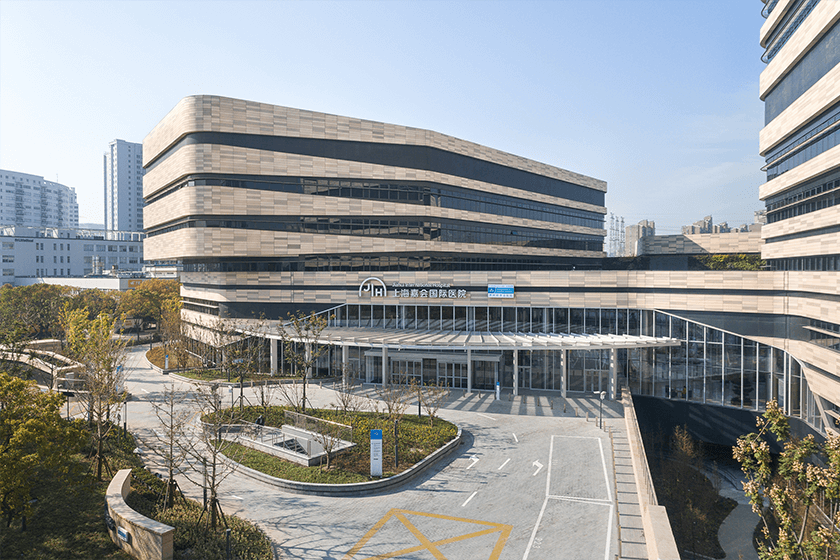 Opening Hours: Monday - Sunday, 24 hours
Address: 689 Guiping Road, Xuhui District, Shanghai