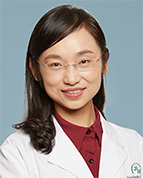 Leah LI, MD
Department:

Location:

Jiahui International Hospital (Shanghai)

Languages:

普通话,  English
Dr. Leah LI is a diagnostic ultrasound (US) physician at Jiahui Health. She graduated from Shanghai Medical College of Fudan University in 2004 and received her MD in Imaging and Nuclear Medicine (ultrasound subspecialty) from Shanghai Jiao Tong University School of Medicine in 2009. Prior to joining Jiahui Health, she served for two years as a resident surgeon in Otorhinolaryngology Head and Neck Surgery Department of Putuo District Central Hospital Affiliated to Shanghai University of Traditional Chinese Medicine. Since 2009 she worked as a resident and attending ultrasound physician specializing in gynecology and obstetrics in the Ultrasound Department of Shanghai Sixth People's Hospital Affiliated to Shanghai Jiao Tong University.
Dr. Li has rich experience in diagnostic US, specializing in the following areas: gynecology US (good at applying a variety of ultrasound scanning techniques, including two-dimensional, threedimensional, transabdominal, transvaginal, transrectal, transperineum approaches, to diagnosing common and intractable gynecologic diseases. ), obstetrics US (e.g., routine fetal growth monitoring, prenatal screening of fetus in first /second trimester, fetal heart echocardiography, fetal intrauterine safety assessment), female pelvic floor ultrasound (e.g., female pelvic organ prolapse, stress urinary incontinence) and female urethra ultrasound (e.g., urethral trauma).
Dr. Li is qualified with prenatal screening and diagnosis, holding certification of Color Doppler Flow Imaging (CDFI) and assessment of maternal and infant health care technology (Imaging). She is an active youth member of the society of gynecology and obstetrics of Ultrasound Association of Ultrasound in Medicine and Engineering.