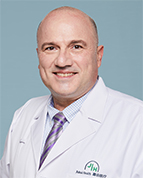 Hilmi Omer AYANOGLU, MD,PhD
Department:

Location:

Jiahui International Hospital (Shanghai)

Languages:

English,  Türk dili
Dr. Hilmi Omer AYANOGLU is an anesthesiologist in Jiahui Health. He graduated from the Faculty of Medicine of Ege University, Izmir in Turkey in 1987. He completed his residency at the same university hospital from 1988 to 2010. He became a professor of Anesthesiology and Intensive Care in 2004. Dr. Ayanoglu served for the Anesthesiology and Reanimation Department at the Faculty of Medicine of Marmara University from 2010 to 2018, including a three-year period of chairman of the department. He has been taking part in most of the treatment modalities and patient care service of anesthesia and intensive care in the last thirty years.
Dr. Ayanoglu worked as a visiting scholar at Mayo Clinic on several different projects relating to anesthesia and intensive care. He served the anesthesia part of Living Related Liver Transplant programs at Ege University in Istanbul and Izmir respectively in Turkey and at King Hussein Hospital in Amman in Jordan.
Dr. Ayanoglu has been an affiliate member of American Society of Anesthesiologists since 1996.