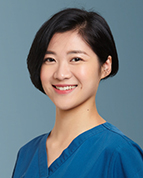 Candice YANG, PT, MSc
Department:

Physical Therapy
athletic health

Location:

Jiahui International Hospital (Shanghai)
Jiahui Health (Jing'an)

Languages:

普通话,  English
Candice YANG, physical therapist, graduated from Wenzhou Medical University in 2013 and received her Bachelor Degree in Rehabilitation. She worked as a physical therapist in SinoUnited Health Clinic and was responsible for rehabilitation and follow-up evaluation for orthopedic patients. In 2016, she went to The Chinese University of HongKong for further study. Before joining Jiahui, she had just received her Master Degree in Sports Medicine and Health Science.
Candice specializes in acute and chronic orthopedic rehabilitation, sports injury prevention and treatment. Her treatment techniques include but not limited to manipulation, taping, American Dry Needling and exercise therapy. Candice has completed full series of Pilates training course and received the relevant certificates. Combined with physical examination and functional assessment, she helps patients with lower back pain and postpartum women by strengthening their core muscles and pelvic floor muscle, and also helps adolescent patients with scoliosis.
Candice participated in several international compétitions to provide medical support, such as the HongKong Standard Chartered Marathon, the Hongkong International Women's Baseball Championship, and the HongKong Football Club Rugby.