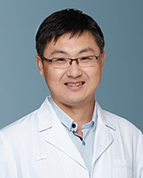 Jason ZHANG, MD, PhD
Department:

Medical Imaging
Thyroid Clinic

Location:

Jiahui International Hospital (Shanghai)

Languages:

普通话,  English
Dr. Jason ZHANG is an Ultrasound physician at Jiahui Health. He graduated from China Medical University in 2002 and received his Master degree in Interventional Radiology from China Medical University in 2008 and Ph.D. in Ultrasound in Medicine from Shanghai Jiao Tong University School of Medicine in 2011. Prior to joining Jiahui Health, he worked as an attending Ultrasound physician in the Ultrasound Department of Shanghai Sixth People's Hospital Affiliated to Shanghai Jiao Tong University. He also worked at Leiden University Medical Center (LUMC), Netherlands, as a visiting fellow for one year from 2014 to 2015.

He has rich experience in Diagnostic and Interventional Ultrasound. Such as: Abdominal Ultrasound, Thyroid Ultrasound, soft tissue Ultrasound, musculoskeletal Ultrasound, Trans-rectal prostate Ultrasound, and Ultrasound -guided interventional procedures.

Dr. Zhang holds active certifications of China Registered Ultrasound Physician and American Registered Diagnostic Ultrasound Physician(ARDMS). He is also the member of the American Institute of Ultrasound in Medicine (AIUM), European Society of Radiology (ESR), China Ultrasound Doctor's Association (CUDA) and the Society of Ultrasound Treatment and Biological Effect of Chinese Association of Ultrasound in Medicine and Engineering.