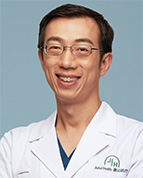 Walter FANG, MBBS, MD, MPH
Department:

General Internal Medicine
Rheumatology
Rheumatology

Adult Fever consultation
Adult fever consultation(Internal Medicine)
General Internal Medicine

Location:

Jiahui International Hospital (Shanghai)

Languages:

普通话
Dr. Walter FANG is an Internal Medicine Physician at Jiahui Health. Dr. Fang obtained his medical degree (MBBS) from Sun Yat-sen University of Medical Sciences in 1995, doctoral degree of medical sciences (MD) from Peking Union Medical College in 2010, and master degree of public health (MPH) from Johns Hopkins University in 2012. Prior to joining Jiahui, he worked at Peking Union Medical College Hospital for 22 years and was appointed the associate professor of medicine and deputy chief of general internal medicine. He was trained in general internal medicine and hospital medicine as a visiting fellow at University of California San Francisco for a year from 2002 to 2003.

Dr. Fang is experienced in medical diagnosis and treatment of the following diseases and health problems:
Common diseases of internal medicine, such as hypertension, dyslipidemia, non-alcoholic fatty liver disease, obesity, diabetes mellitus and infections, etc.
Gout
Rheumatic diseases, such as systemic lupus erythematosus (SLE), rheumatoid arthritis (RA), Sjogren's syndrome (SS), ankylosing spondylitis (AS), polymyositis, dermatomyositis, Behcet's disease, mixed connective tissue disease (MCTD), systemic vasculitis including Takayasu's arteritis, giant cell arteritis, polyarteritis nodosa, ANCA-associated vasculitis, Henoch-Schönlein purpura, antiphospholipid syndrome and other arthritis;
Clinical challenging cases, such as fever of unknown origin, and complicated diseases.
License no. :110110000008687